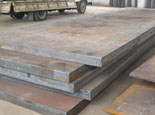 ASTM A387gr11 steel plate/sheet,ASTM A387gr11 steel plate/sheet, under ASTM standard, we can regard A387gr11 steel plate/sheet for steel with Cr., Mo.,Cr-Mo steels used for high temperature and pressure vessels.
ASTMA387gr11 steel grade is a kind of steel which with Cr., Mo.,Cr-Mo that mainly applied for high temperature and pressure vessels.The steel grade A387grade 11 is according to ASTM standard which with the yield strength of 242MPa.The followings are the chemical composition and mechanical properties of ASTM A387grade 11 steel plate.
ASTM A38 7grade11 steel chemical composition
Grades
C
Mn
S
P
Si
Cr
Ni
Cu
Mo
Nb+V+Ti
A387gr11
0.05-
0.17
0.40-
0.65
0.035
max
0.035
max
0.15-
0.40
0.80-
1.15
-
-
0.45-
0.60
-
ASTM A387grade 11 steel Mechanical properties
 
Grade
Permissible yield point
ratio
Yield Strength
MPa(min)
Tensile Strength
MPa
Elongation
% (min)
A387gr11
-
242
415-585
22
A387 gr11/12 CL1/2 steel covers chromium-molybdenum alloy steel plates for welded boilers and pressure vessels designed for elevated temperature service. A387 steel considered under this specification are available in grades 2, 12, 11, 22, 22L, 21, 21L, 5, 9 and 91. The steel materials shall be killed and shall be thermally treated. A387 gr11/12 CL1/2 steel shall undergo heat analysis and product analysis and shall conform to the chemical requirements for carbon, manganese, phosphorus, sulfur, silicon, chromium, molybdenum, nickel, vanadium, columbium, boron, nitrogen, aluminum, titanium, and zirconium. A387 gr11/12 CL1/2 steel shall also undergo tension tests and shall conform to the required values of tensile strength, yield strength, and elongation.
we also can supply A387CL1,A387CL2,A387gr11,please contact us if you need.
Bebon International is a professional A387gr11 steel exporter and a steel Stockist in china. We keep more than 1000 tons A387gr11 steel in stock every month. If you want to get the A387gr11 steel price, please do not hesitate to contact us. Any need in A387gr11 Chemical Composition and Mechanical Properties, please feel free to contact us by email or calling to us.

Are you also interested in further steel processing (machining)?
Just like you, 70% customers choose long-term cooperation with BBN steel not only for our good product and service quality, good reputation in the international market, but also for our experienced one-stop raw material supply and further steel processing!