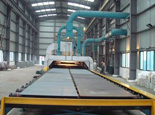 API 5L Gr.B steel plate/pipes, API 5L Gr.B steel plate/pipes, under API 5L standard, we can regard API 5L Gr.B steel plate/pipes as large diameter pipes.
API 5L Gr.B steel plate/pipes is one mainly of Steel for large diameter pipes,API-Gr.B steel is manufactured using premium grade of raw material. These are used to flow steam, water, oil and various petrochemicals substance in various petrochemical and chemical industries. These Steel Seamless Pipes are widely appreciated for high performance and less maintenance.
API 5L Gr.B
Material#1.0457
Comparison of steel grades
DIN 17172
StE240.7
EN10208-2
L245NB
API 5L Gr.B steel Chemical analysis
Grades
Material number
C
max
Si max
Mn.
mix
P
max
S
max
Gr.B
1.0457
0.17
0.45
0.4
0.04
0.035
API 5L Gr.B steel Mechanical properties
Grade
Permissible yield point
ratio
Yield Strength
MPa(min)
Tensile Strength
MPa
Elongation
% (min)
Gr.B
≤ 0.85
240
370 - 490
24
BEBON steel can supply API 5L X42,API 5L X52,API 5L X65,API 5L X70,API 5L X80,please contact us if you need
Bebon International is a professional API 5L Gr.B steel exporter and a steel Stockist in china. We keep more than 1000 tons API 5L Gr.B steel in stock every month. If you want to get the API 5L Gr.B steel price, please do not hesitate to contact us. Any need in API 5L Gr.B Chemical Composition and Mechanical Properties, please feel free to contact us by email or calling to us.

Are you also interested in further steel processing (machining)?
Just like you, 70% customers choose long-term cooperation with BBN steel not only for our good product and service quality, good reputation in the international market, but also for our experienced one-stop raw material supply and further steel processing!