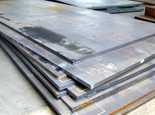 EN10113 S355M steel plate/sheet,EN10113 S355M steel plate/sheet, under EN standard, we can regard S355M steel plate/sheet for Fine-grain structural steels, thermomechanically rolled steel.
EN10113 S355M is a technical delivery conditions for thermomechanical rolled weldable fine grain structural steels.S means the structural steel, M means the delivery condition.The EN10113 S355M steel is equivalent to SEW TStE355TM,NFA E355R and ASTM A572GrC steel grade
S355M
EN 10113-3
Number:1.8823
Comparision of steel grades
SEW 083
StE 355 TM
NFA 36-201
E 355 R
UNI 7382
Fe E 355 KGTM
BS 4360
-
ASTM
A 572 Gr.C
S355M steel plate Chemical Composition
Grade
C
max
Si
max
Mn
max
P
max
S
max
N
max
AL
min
Nb
max
V
max
Ti
max
Cr
max
Ni
max
Mo
max
Cu
max
Ce
min
S355M
0.14
%
0.50
%
1.60
%
0.030
%
0.025
%
0.015
%
0.02
%
0.05
%
0.10
%
0.05
%
0.30
%
0.50
%
0.10
%
0.55
%
0.39
%
S355M steel plate Mechanical Properties
Grade
Nom.
thick.e
Yield
Strengh
ReH
Tensile
Strength
ReH
Total
Elongation
A5
℃
Notch Impact Energy
Longitud. transverse
S355M
≤16mm
≥355MPa
470-
630 MPa
+20
≥55
≥31
>16mm
≥345MPa
0
≥47
≥27
≥3mm
≥22%
-10
≥43
≥24
-20
≥40
≥20
Fine-grain structural steels, thermomechanically rolled S355M steel plate/sheet under EN 10113-3, S355M steel has good weldability and high resistance to brittle cracking. S355M steel plate/sheets are used highly stressed welded structures in the construction of bridges and steel structures. BEBON international enjoys a famous reputation in the global steel market due to the best quality, excellent service and competitive price. we have S355M steel plate/sheet more than 10000 tons per mouth, stock are also available. More information, pls consult us now.
BEBON steel can supply S275M,S275ML,S355ML,please contact us if you need.
Bebon International is a professional EN10113 S355M steel exporter and a steel Stockist in china. We keep more than 1000 tons EN10113 S355M steel in stock every month. If you want to get the EN10113 S355M steel price, please do not hesitate to contact us. Any need in EN10113 S355M Chemical Composition and Mechanical Properties, please feel free to contact us by email or calling to us.

Are you also interested in further steel processing (machining)?
Just like you, 70% customers choose long-term cooperation with BBN steel not only for our good product and service quality, good reputation in the international market, but also for our experienced one-stop raw material supply and further steel processing!