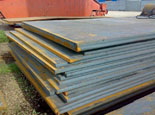 BS WR 50 C steel plate, WR 50 C steel plate, under BS 4360standard, we can regard BS 4360 WR 50 C steel plate as Steel Resistant to Atmospherical Corrosion
WR 50 C steel plate is one mainly of Steel Resistant to Atmospherical Corrosion, WR 50 C steel plate is a weather-resistant structural steel with mechanical properties similar to WR 50 C. By adding Cr, Cu and Ni, it formed oxide layers stick firmly to the work piece surface. This oxide layer prevents further corrosion of the steel.
WR 50 C
UNI
Comparison of steel grades
UNI
S355J2G1W
DIN17102
STE355
NFA 35-502
-
BS4306
WR50C
UNI
Fe WR 50 C
WR 50 C steel Chemical analysis
Grades
C
max
Si
max
Mn
P
max
S
max.
Cu
max
Cr
max
Ni
max
V
max
Nb
max
Al
min
WR 50 C
0.16
0.50
0.50-1.50
0.035
0.035
0.25-0.55
0.40-0.80
0.65
0.02-0.12
0.015-0.060
0.02
WR 50 C steel Mechanical properties
Thickness
Yield Strength
ReH[N/mm2]
transv.min
Tensile
Strength
Rm[N/mm2]transv
Fracture Elongation[%]transv. min.
Notch Impact
Energy1)Ch Vcomplete samplelongitud. min [J]
-
355
510-610
22
-
we are WR 50 C steel suppliers ,also can supply WR 50 B steel ,if you are interested in our products ,please contact us.
Bebon International is a professional WR 50 C steel exporter and a steel Stockist in china. We keep more than 1000 tons WR 50 C steel in stock every month. If you want to get the WR 50 C steel price, please do not hesitate to contact us. Any need in WR 50 C Chemical Composition and Mechanical Properties, please feel free to contact us by email or calling to us.