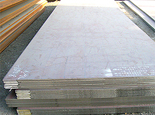 HI steel plate/sheet, DIN 17155 HI steel plate/sheet, under DIN 17155 standard, we can regard HI steel plate/sheet for gas cylinders and gas vessels.
HI steel plate/sheet is one mainly of Steel for gas cylinders and gas vessels.DIN 17155 HI steel grade is for heat resistant plates in grade HI, HII, 17 Mn4, 15 Mo3, 13CrMo44, 10CrMo910 and AST41 steel grade.DIN 17155 HI pressure vessel steel has now been superseded with the Euro Norm specification EN 10028.

HI DIN17155
Material#.1.0111
Comparison of steel grades
EN10120
P245NB
NFA36-211
BS1
UNI7355
FeE24KR
BS5045
Type A
UNE36129
AE 235 KR
JIS G3116
SG 255
DIN17155 HI steel Chemical analysis
Grade
C
max
Si
max
Mn.
max
P
max
S
max
N
max
AL
min
Nb max
Ti
max
HI
0.16
0.25
0.3
0.025
0.015
0.009
0.02
0.05
0.03
DIN17155 HI steel Mechanical properties
Grades
Yield Strength
Tensile
Fracture


HI



ReH[N/mm2]
Strength
Elongation
transv.min.
Rm[N/mm2]transv.
[%]transv. min.
thickness
Total elongation A1
< 3 mm
≥ 26 %
245
360 - 450
≥ 3 mm
≥ 34 %
BEBON steel can supply HI steel plate price ,also can supply HII steel plate ,if you need more info,please contact us.
Bebon International is a professional HI steel plate steel exporter and a steel Stockist in china. We keep more than 1000 tons HI steel plate steel in stock every month. If you want to get the HI steel plate steel price, please do not hesitate to contact us. Any need in HI steel plate Chemical Composition and Mechanical Properties, please feel free to contact us by email or calling to us.

Are you also interested in further steel processing (machining)?
Just like you, 70% customers choose long-term cooperation with BBN steel not only for our good product and service quality, good reputation in the international market, but also for our experienced one-stop raw material supply and further steel processing!