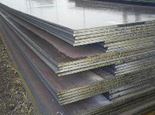 Corten B steel plate,ASTM CortenB steel plate/sheet, under ASTM standard, we can regard CortenB steel plate/sheet for steel resistant to Atmospherical corrosion steels.
ASTM CortenB steel grade is a hot rolled products of structural steels in technical delivery conditions with improved atmospheric corrosion resistance.The steel grade CortenB is according to ASTM standard which with the yield strength of 355MPa and 345MPa which is based on the different thickness.The tensile strength of ASTM CortenB is 470-630 MPa.The followings are the chemical composition and mechanical properties of ASTM CortenB steel plate.
Grades
C
max
Si
Mn.
P
S
max
Cr
Ni
Cu
V
Corten
B
0.16
0.30-0.50
0.80-1.25
0.030
0.030
0.40-0.65
0.40
0.25-0.40
0.02-
0.10
Corten B Mechanical properties
 
Grade
Thickness
(mm)
Yield Strength
MPa(min)
Tensile Strength
MPa
Elongation
% (min)
Corten
B
≤16
355
470-630

20

>16≤50
345
we are Corten B steel suppliers ,also can supply Corten A steel, please contact us if you need
Bebon International is a professional Corten B steel exporter and a steel Stockist in china. We keep more than 1000 tons Corten B steel in stock every month. If you want to get the Corten B steel price, please do not hesitate to contact us. Any need in Corten B Chemical Composition and Mechanical Properties, please feel free to contact us by email or calling to us.