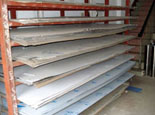 EN 10025 S235J2 steel plate, S235J2 steel plate, under EN10025 standard, we can regard S235J2 steel plate as Carbon structural steel
S235J2 steel plate is one mainly of Carbon structural steel
, S235J2 steel plate would be used to built containers which can bear low temperature sea water. When customers order S235J2 steel platefrom us,our mill should be roll them completely according to EN10025_2 specification, the mill would issue original Mill test certificates before taking delivery for checking
S235J2 steel Chemical composition
| | | | | | | | |
| --- | --- | --- | --- | --- | --- | --- | --- |
| Grade | C % | Si % | Mn % | P % | S % | N % | Cu % |
| S235j2 | 0.190 | - | 1.500 | 0.035 | 0.035 | - | 0.060 |
S235J2 steel mechanical properties
Grade
Thickness(mm)
Min Yield (Mpa)
Tensile(MPa)
Elongation(%)
Min Impact Energy
S235j2
8mm-100mm
215Map-235Mpa
360-510Mpa
21-26%
-20
27J
101mm-200mm
195Mpa
340-500Mpa
22%
-20
27J
201mm-400mm
175Mpa
…
21%
-20
27J
The min impact energy is longitudinal energy
S235J2 steel plate is the Non-alloy structural steels. S235J2 steel's Mechanical properties is Yield strength more than 225MPa, tensile strength 340-510MPa, Elongation is 24%. Ultrasonic Test shall be carried out according to EN10025_1.For the impacting test,it indicates by J2. J2 means at -20 centidegree temperature with minimum impact energy 27 J.
Because of the carbon amount in S235J2, comprehensive performance is better, strength, plasticity and welding, performance is better to cooperate. S235J2 steel is widely used for rolled into half-round bars, rod or industry, Angle,flat, channels, such as steel, steel window frame in thick plate. Extensively used in architecture and engineering structure.
we are S235J2 steel suppliers ,if you need S235J0W,S235J2W,S355J0W,S355J2G2W,S355J2G1W,S355K2G1W,please contact us.
Bebon International is a professional S235J2 steel exporter and a steel Stockist in china. We keep more than 1000 tons S235J2 steel in stock every month. If you want to get the S235J2 steel price, please do not hesitate to contact us. Any need in S235J2 Chemical Composition and Mechanical Properties, please feel free to contact us by email or calling to us.

Are you also interested in further steel processing (machining)?
Just like you, 70% customers choose long-term cooperation with BBN steel not only for our good product and service quality, good reputation in the international market, but also for our experienced one-stop raw material supply and further steel processing!