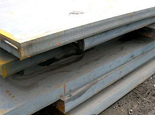 ASTM A 516 Gr. 55 Steel plate for for Boiler Pressure Vessel
A 285 Gr. C steel plate, ASTM A 414 Gr. C steel plates is a kind of material for boiler and pressure vessel steel. UNI 36087 A37 RCI steel plates is characterised by a minimum yield strength of 170-230MPa and by good weldability,so A 516 GR 55 steel is mainly used to for manufacturing boilers, pressure vessels and pipes transporting hot liquids.the following are ASTM A 516 Gr. 55 steel plate's Chemical composition and mechanical properties
A 516 Gr. 55 Chemical analysis
| | | | | | | | | | | | | | | |
| --- | --- | --- | --- | --- | --- | --- | --- | --- | --- | --- | --- | --- | --- | --- |
| Grades | C max | Si max | Mn. max | P max | S max | N max | AL min | Cr max | Cu max | Mo max | Ni max | Nb max | Ti max | V max |
| A 516 Gr. 55 | 0.16 | 0.35 | 0.60-1.20 | 0.025 | 0.015 | 0.012 | 0.02 | 0.3 | 0.03 | 0.08 | 0.3 | 0.02 | 0.03 | 0.02 |
A 516 Gr. 55 Mechanical properties
Gade
Thickness (mm)  
Yield Strength MPa(min)
Tensile Strength MPa  
Elongation % (min)  
Impact Energy (KV J) (min)
-20℃
0℃
20℃
A 516 Gr. 55      
≤ 16
235
360 to 480
24
27
34
40
16<t ≤40
225
360 to 480
24
27
34
40
40<t ≤60
215
360 to 480
24
27
34
40
6<t ≤100
200
360 to 480
24
27
34
40
100<t ≤150
185
350 to 480
24
27
34
40
150<t ≤250
170
350 to 480
24
27
34
40
we also can supply A 48 CP,AP,FP,A515 Gr55,60,65,70,A516 Gr.65,please contact us if you need
Bebon International is a professional ASTM A 516 Gr. 55 steel exporter and a steel Stockist in china. We keep more than 1000 tons ASTM A 516 Gr. 55 steel in stock every month. If you want to get the ASTM A 516 Gr. 55 steel price, please do not hesitate to contact us. Any need in ASTM A 516 Gr. 55 Chemical Composition and Mechanical Properties, please feel free to contact us by email or calling to us.

Are you also interested in further steel processing (machining)?
Just like you, 70% customers choose long-term cooperation with BBN steel not only for our good product and service quality, good reputation in the international market, but also for our experienced one-stop raw material supply and further steel processing!