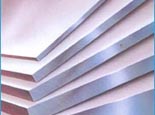 MNC 22.16.04 steel plate/sheet, 22.16.04 steel plate/sheet, under MNC830E standard, we can regard 22.16.04 steel plate/sheet for boiler steels.
22.16.04 steel plate is one mainly of Steel for boiler steels.MNC830E 22.16.04 steel is mainly used for Petroleume, Chemical Factory and the Boilers domains .They also are made the Reactor, Heat Exchanger, Separator, Spherical Tank, the Tank of oil gas, Nuclear reactor pressure shell ,High-pressure water pipe, Turbin shell and other equipments equivalent to DIN17155 15Mo3 and UNI5869 15Mo3, 15D3 (NFA 36205 ) and ASTM A204Gr.B.
22.16.04
MNC830E
Comparison of steel grades
AFNOR 36206
18 MD 4.05
MNC830E
22.16.04
JIS 3103
450M
BS 1501 part 2
271
ASTM
A202 gr. A,B
22.16.04 steel Chemical Composition
Grade
C.
max
Mn.
S.
N
Cu
Si.
P.
Cr.
Ni.
Mo.
22.16.04
0.12-
0.2
0.40-
0.90
0.01
0.012
0.30
0.35
0.025
0.30
0.30
0.25-
0.35
22.16.04 steel Merchanical Propertites
Grade
Tensile Strength
(Mpa)
Yield Strength
(Mpa)
Elongation in
100-150 mm(%)
Elongation in
16 mm(%)
Max Thickness
(mm)
22.16.04
440-590
220-275
19
24
250
we are 22.16.04 steel suppliers ,if you need 22.16.04 steel price ,please contact us.
Bebon International is a professional 22.16.04 steel exporter and a steel Stockist in china. We keep more than 1000 tons 22.16.04 steel in stock every month. If you want to get the 22.16.04 steel price, please do not hesitate to contact us. Any need in 22.16.04 Chemical Composition and Mechanical Properties, please feel free to contact us by email or calling to us.