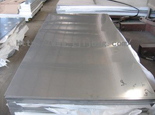 Adopt Standard: EN 10155:
Grade:S235J2W,S355J0WP,S355J2WP,S355J0W,S355J2W,S355J2G1W,S355J2G2W,S355K2G1W,S366K2G2W.
BEBON international is an outstanding and professional S355K2G1W steel exporter and stockist in china, especially in super thick atmospheric corrosion resistance of structural steel plate. We keep more than 10000 ton S355K2G1W steel in stock, and we have a good relationship with per big steel mill.
S355K2G1W steel plates specification:
thickness: 2-460mm, width: 1500-3200mm, length:6000-18000mm.
S355K2G1W steel chemical composition(%): The steel shall contain, C max: 0.16, Si max: 0.50, Mn: 0.50-1.50, P max: 0.035, S max: 0.035, Cu: 0.25-0.55, Cr: 0.40-0.80, Al min: 0.02, Ni: 0.65.
S355K2G1W steel mechanical properties:
S355K2G1W steel Yield Strength min 295MPa, Tensile strength range is 450-630MPa, and the min Elongation can reach 18%.
We promise we can offer you the qualified S355K2G1W steel plates at the competitive price and rapid delivery time. So if you need any offer or need consult any technical requirements. Please contact us at any time.