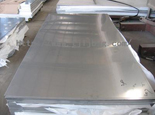 BEBON steel is specialized in supplying A131 high strength steel plate in A131 Grade DH36.
A131 DH36 steel plate for shipbuiling&platform.The shipbuilding steel plate grade DH36 is the high tensile strength steel.DH36 shipbuilding steel is the Hull structural steel,with it's good toughness properties, higher strength,strong corrosion-resistance,the processing properties,and welding properties.ASTM A131 DH36 steel plate can be used in the manufacture of the ship's hull structure whose weight is more than 10000 tons.
For more information of A131 Grade DH36 steel plate, please check them in following:
A131 DH36 high Strength Chemical Composition
Grade
The Element Max (%)
C
Si
Mn
P
S
Al
N
A131 DH36
0.18
0.1-0.50
0.90-1.6
0.035
0.035
0.015
Nb
V
Ti
Cu
Cr
Ni
Mo
0.02-0.05
0.05-0.10
0.02
0.35
0.2
0.4
0.08
A131 DH36 high strength property
Grade
Mechanical Property
Charpy V Impact Test
Thickness
Yield
Tensile
Elongation
Degree
Energy 1
Energy 2
A131 DH36
mm
Min Mpa
Mpa
Min %
-20
J
J
t≤50
355
490-620
22%
17
25
50<t≤70
355
490-620
22%
20
30
70<t≤100
355
490-620
22%
25
37
BEBON steel can supply A131 DH36 shipbuilding steel ,we have many years production experience of A131 DH36 shipbuilding steel ,if you need A131 DH36 shipbuilding steel price and specification ,please contact us.