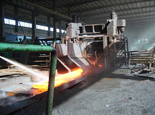 ASTM A516 Gr 70 steel plate/sheet,ASTM A516 Gr 70 steel plate/sheet, under ASTM standard, we can regard A516 Gr 70 steel plate/sheet for simple pressure vessels steel.
ASTM A516 Gr 70 /ASME SA516 Gr 70 is an excellent choice for service in lower than ambient temperature applications, has excellent notch toughness and is used in both pressure vessels and industrial boilers.ASTM A516 Gr 70/ ASME SA516 Grade 70 offers greater tensile and yield strength when compared to ASTM A 516 Gr65 /ASME SA516 Gr65 and can operate in even lower temperature service.
ASTM A516 Grade 70 Chemical Composition
Carbon(C)
%
Manganese(Mn)
%
Phosphorus(P)
%
12.55mm or less
12.5-50mm
50-100mm
100-200mm
>200mm
0.27
0.28
0.30
0.31
0.31
12.5mm or less
Heat Analysis
Product Analysis
Over 12.5mm
Heat Analysis
Product Analysis
0.85-1.20
0.79-1.30 0.85-1.20
0.79-1.30

(max)
0.035
Sulphur(S)
%
Silicon(Si)
%
(max)
0.035
Heat Analysis
Product Analysis
0.15-0.40
0.13-0.45
ASTM SA516Gr70 Mechanical Properties
Description
Grade70
Tensile Strength(Ksi)
Tensile Strength(MPa)
Yield Strength(Ksi)
Elongation in 200mm(min.%)
Elongation in 50mm(min.%)
Thickness(max/min)
70-79
485-620
38
260
17
21
205
we also can supply A514,A516Gr55,A516Gr65,A516Gr60,please contact us if you need.
Bebon International is a professional A516Gr70 steel exporter and a steel Stockist in china. We keep more than 1000 tons A516Gr70 steel in stock every month. If you want to get the A516Gr70 steel price, please do not hesitate to contact us. Any need in A516Gr70 Chemical Composition and Mechanical Properties, please feel free to contact us by email or calling to us.

Are you also interested in further steel processing (machining)?
Just like you, 70% customers choose long-term cooperation with BBN steel not only for our good product and service quality, good reputation in the international market, but also for our experienced one-stop raw material supply and further steel processing!