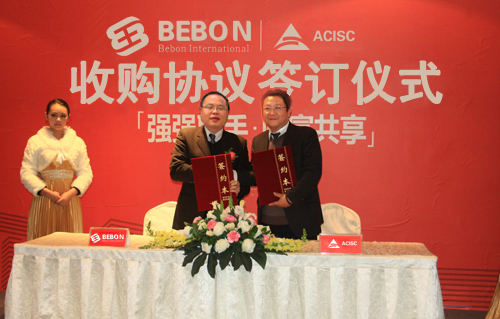 In order to creat the global brand and top-notch service, Henan Bebon International Co.,Ltd acquired Asia Construction Iron & Steel Co.,Ltd on 16th,Aug,2016. After research decision, Henan Bebon International Co.,Ltd is renamed HENAN BEBON IRON & STEEL CO.,LTD officially and the logo of BEBON upgraded to BBN from 1st, Jan,2017.
Henan BEBON IRON & STEEL Co.,Ltd located in zhengzhou ,henan province of china. Since it was established in 2008. Based on the domestic rich product resources and the great steel demand of the international market, BEBON'service has already spread many countries in Europe , America, Southeast Asia, Middle East, South America, Africa, etc, and BEBON has won an outstanding reputation for its professional exporting steel products
BEBON International is the most professional steel exporter in China, for we can provide the most comprehensive steel grade in the different standard,like: ASTM / ASME / AISI / SAE / API / EN / JIS / ST / SB / ISO / DIN / NFA / BS / IS / API / EU / SEW / UNI / UNE
The main steel grade like : S235JR, S355JR, S275JR, S275N, S275NL, S355N, S355NL, St37-2, St37-3N, St52-3, St523N, A283GrA/B/C/D, A36, A572Gr42/50, SS400, SS490, SM400A/B/C, SM490A/B/C, SM490YA/B, SM520B/C, P460N, P460 NH, P460 NL1, P460NL2, SM570, A572Gr60/65, A, B, X42, X48, S 235 J0WP, S 235 J2WP, A588grA, corten B, corten A, 16 Mo 3,A202 gr. A/B,E 295, E335,P235GH, P355GH, P275N, P275NL1, P355N, P355NL1, HII, DD11, DD1, SAE1010, SPHD, TStE285, TStE355, A517gr50/55/60/65/70/80, S355NC, S275M, S355M, S355ML, 19 Mn 6, 15 Mo 3,SPH235,1 7Mn4, SG255, SG295, C35, C55, C35k, C45k, S35C, S45C, 304, 316, 309S, 310S, 321, 410, 410S, 420, 420J1, 430 and so on.
The one of the most significant reason for why BEBON are so popular among the customers is our abundant resources and solid industry strength. We have three bigwarehouses--Zhengzhou, Tianjin and shanghai.More specifically, Zhengzhou which mainly store profile steel, the quantity of ex-stock isabout 4000tons , shanghai and Tianjin,which mainly store steel plates ,the quantity is about 6500tons. Besides, the product material quality in stocks is complete, the reserve is big, and delivery can be immediate.
In services, our service is the "one-stop" work style. We have our own processing factory and the pre- treatment factory, pre-treatment for shipbuilding steel (ball blasting,derusting,painting).Surface pretreatment line technical parameters on steelplates and profile steel. And we can also make the customers enjoy our other pre-treatment services,like cutting,welding, drilling holes, galvanizing by the lowest cost price.