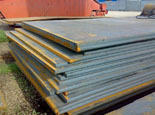 ASTM A537 CL2 steel plate/sheet,ASTM A537 CL2 steel plate/sheet, under ASTM standard, we can regard A537 CL2 steel plate/sheet for simple pressure vessels steel.
A537 Class 2 steel plates are engineered to be used in pressure vessel applications.ASTM A537 Class 2 steel is a higher yield and tensile strength material used in the fabrication of pressurised vessels and steel boilers. the steel includes the alloying of carbon, manganese and silicon and is heat treated using the quenched and tempered method which gives the material its residual strength. Sourced by the world's leading fabricators, ASTM A537 Class 2 is a material used extensively by the oil, gas and petrochemical industry.
A537 Class 2 steel chemical composition
Grade
C
Si
Mn
P
S
Cr
Mo
Ni
Cu
≤40
mm
>40
mm
A537CL2
0.24
0.15-
0.50
0.70-
1.35
1.00-
1.60
0.035
0.035
0.25
0.80
0.25
0.35
A537 Class 2 steel mechanical properties
Grade
Yield strength
(MPa)
Tensile strength (MPa)
Elongation
Thickness
A50mm
A200mm
A537 CL2
415
550-690
22%
-
≤65
380
515-655
22%
-
>65≤100
315
485-620
20%
-
>100≤150
ASTM A573 CL 2 is the steel grade in ASTM standard. There is equal material -- SA537 CL 2 steel. SA537 CLASS 2 steel is in the ASME standard. ASME SA537 CL 2 is also usually used in pressure vessel. Same as A537CL3 and SA537CL3, A537 CL 2 and SA 537 CL 2 delivery condition is also Q&T
we also can supply A537 CL1,A537CL3,please contact us if you need
Bebon International is a professional A537 CL2 steel exporter and a steel Stockist in china. We keep more than 1000 tons A537 CL2 steel in stock every month. If you want to get the A537 CL2 steel price, please do not hesitate to contact us. Any need in A537 CL2 Chemical Composition and Mechanical Properties, please feel free to contact us by email or calling to us.