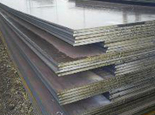 RINA DH32 steel plate
1, RINA DH32 Shipbuilding steel plate
2.Size : Thickness :2mm-120mm
Width : 1500mm-4000mm
Length :5000mm-18000mm
3,Standard : BV GL LR KR NK CCS ABS DNV RINA
4,Technical Data :According to the customer's request of chemical composition and mechanical properties. Material details will be as per agreed technical specifications .
5,Mill Test Certificate: Including production process, chemical composition, mechanical properties(such as yield strength, tensile strength, elongation, hardness etc), forged ratio, ultrasonic test result, grain size, cleanliness etc .
6, RINA DH32 Shipbuilding steel Applications: Manufacturing the body of ship, platform of offshore oil production and other structure etc
7,Packing : In seaworthy packing or on customer's request

We offers grades RINA A131 DH32, RINA DH32 steel and DH32 shipbuilding steel. these grades of steel plate are almost exclusively utilized in the Shipbuilding Industry for the construction of Structural Parts of ships, barges and Marine Equipment. All grades are certified by RINA .