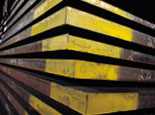 BEBON sell EN10028-3 P460NH steel plate :
1.EN10028-3 P460NH steel Usage :
Mainly used in petroleum, chemical, power plants, boilers and other industries for the production of reactors, heat exchang, separators, tank, gas cans, gas cans, nuclear reactor pressure vessel , Boiler drum, liquefied petroleum gas bottles, high-pressure water station, other equipment and components and spiral case.
2.EN10028-3 P460NH bebon steel Related Material:
DIN 17102 St E 460,NFA 36201 E 460 R ,BS 4360 55 C, EE, JIS 3101 (3106) SM 570
3.P460NH steel standard: EN10028-3
4. EN10028-3 P460NH hot rolled steel available size:
THIIckness: 8-300mm
Width: 1500mm -- 3500mm
Length: 3000mm -- 18000mm

5. EN10028-3 P460NH steel Delivery States:
Heat treatment facilities for hot-rolled, controlled rolling, normalizing, annealing, tempering, quenching, normalizing plus tempering, quencHIIng and tempering, and other delivery states are available as customers' requirement.
6.Payment form:T, L/C
7. Trading term: FOB, CIF, CFR
BEBON sell steel plates:
EN 10028-3:P460 NP460 NH P460 NL1,P460 NL2
JIS 3101:SM 570
ASTM: A 572Gr60/65
If you need more information about EN10028-3 P460NH steel price ,please visit BEBON website www.bebonchina.com. .You will find what you need there. If you have inquiry about EN10028-3 P460NH steel ,you can send mail to bb@beboncHIIna.com . And we will be there to support you. Wait for your letter!