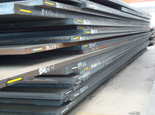 Bebon is specialized in supplying ASTM A204 steel plate in A204 Grade B.
For more information of A 204 gr.B Chemical composition, please check them in following:
C0.20-0.27 Si 0.13-0.45 Mn 0.90-0.98 P 0.035 S 0.035
Carbon Equivalent: Ceq = 【C+Mn/6+(Cr+Mo+V)/5+(Ni+Cu)/15】%
Tensile strength, kis [MPa] 70-90 [485-620]
Yield strength, min, kis [MPa] 40 [275
Elongation in 8 in. [200 mm], min, % 17
Elongation in 2 in. [50 mm], min, % 21
As a A 204 gr.B distributors Bebon steel, A 204 gr.B steel with improved atmospheric corrosion resistance has a wide range of applications: architecture, smokestacks, fabrication,freight wagons, silos, pylons and bridges. Bebon Internationl has very good relationship with every big steel mill. We can supply more than 1000 tons A 204 gr.B for sale every month.We are a professional A 204 gr.B distributors in China. If you have any need for A 204 gr.B Mechanical properties, Chemical composition, Mechanical properties,please contact one of the biggest A 204 gr.B distributors, Bebon International. All of the A 204 gr.B steel we offer are in good quality for sale. You can trust us and contact us, we will not let you down.

Source: